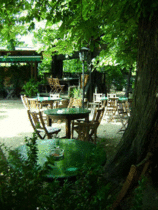 Kahlenberger Straße 22
1190 Vienna – Nußdorf
Vienna's traditional Winery since 1711: a family-owned enterprise for nine generations, run by Daniela Somlói who took over the management of the wine tavern from her parents, Dr. Johann and Elisabeth Pflaum in 1995. In the wine tavern guests can indulge in home-produced wines and grape juices renowned for their vital fruit aroma and flavour. The kitchen offers traditional Austrian dishes combined with new and innovative specialities produced in close touch with nature.